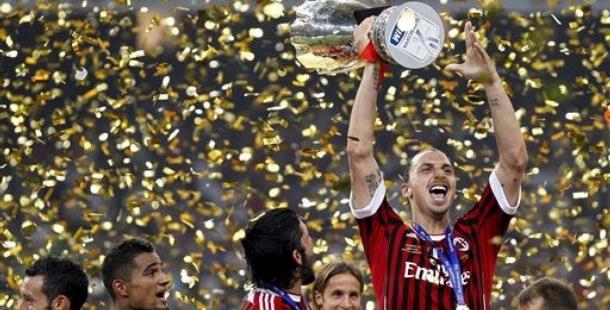 MILAN
— Striker AC Milan, Zlatan Ibrahimovic, memborong dua penghargaan sekaligus dalam ajang penghargaan Oscar del Calcio, Selasa (24/1/2012).
Selain dinobatkan sebagai pemain terbaik, Ibra juga didaulat sebagai pemain asing terbaik dalam Serie-A 2011. Dua penghargaan untuk Ibra ternyata hanya sebagian dari penghargaan yang berhasil dibawa pulang oleh klubnya.
Football Italia
mencatat "I Rossoneri" mendominasi penghargaan tahunan yang diadakan di Milan ini dengan meraih empat penghargaan dari sembilan kategori penghargaan yang diberikan.
Selain Ibra, Pelatih Massimiliano Allegri mendapatkan penghargaan pelatih terbaik. Thiago Silva meraih penghargaan pemain bertahan terbaik, sedangkan Stephan El Shaarawy—yang musim lalu membela Padova—mendapat penghargaan pemain terbaik Serie-B.
Sementara itu, Udinese dinobatkan sebagai tim terbaik, sementara penjaga gawangnya, Samir Handanovic, meraih penghargaan kiper terbaik. Fabio Cannavaro dan Alessandro Del Piero diberikan penghargaan terkait pencapaian seumur hidup, sementara penghargaan Critics Award diberikan kepada Fabio Capello.
Daftar pemenang Oscar del Calcio
Pelatih Terbaik: Massimiliano Allegri
Runner-ups
: Francesco Guidolin, Walter Mazzarri
Kiper Terbaik: Samir Handanovic
Runner-ups
: Christian Abbiati, Morgan De Sanctis
Bek Terbaik: Thiago Silva
Runner-ups
: Andrea Barzagli, Mehdi Benatia
Pemain Asing Terbaik: Zlatan Ibrahimovic (sekaligus pemain terbaik)
Runner-ups
: Edinson Cavani, Samuel Eto'o
Wasit Terbaik: Nicola Rizzoli
Runner-ups
: Paolo Tagliavento, Paolo Valeri
Klub Terbaik: Udinese
Poin Terbanyak: Milan (80)
Pencetak Gol Terbanyak: Edinson Cavani (28)
Team of the Year (2011): Handanovic; Maggio, Thiago Silva, Nesta (imbang dengan Ranocchia), Armero; Hamsik, Boateng, Motta (imbang dengan Marchisio); Ibrahimovic, Cavani, Di Natale.
sumber : kompas.com